These are other details for your referece:
1, Printer head: Ricoh Gen5 / Ricoh GH2220 / Ricoh GEN5S Printheads can optional (100% orignal new from Ricoh)
2, System: UMC system (the same as Ricoh themselves uv printer, to be top1 in China now)
3, Working size : 60*60cm, 60*90cm,100*130cm(Only our company have),150*130cm,250*130cm,200*300cm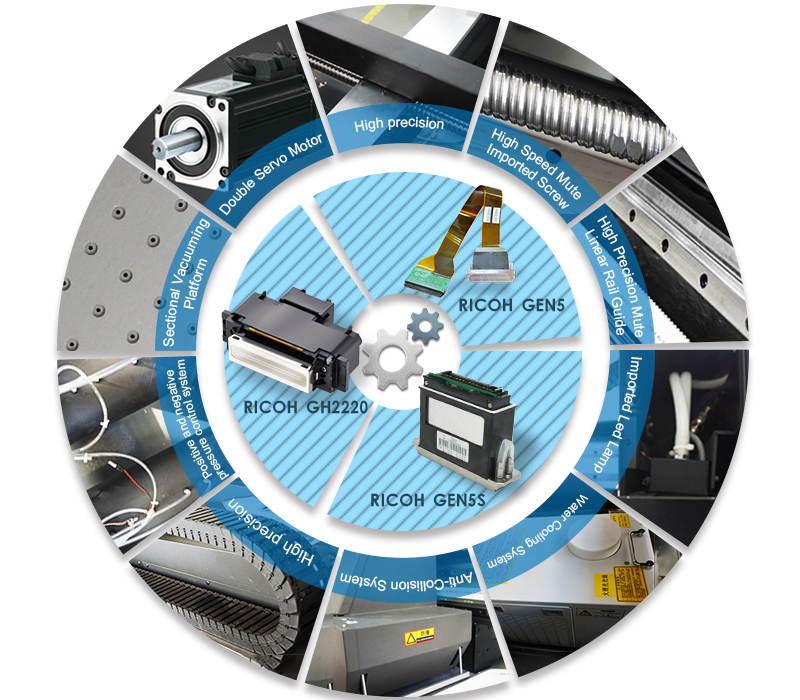 1, All Steel-Frame Stucture
better-structured frame made it highly stable and high-precision.
2, Double Leadcrew for large format printer
High speed mute imported screw,High-precision low noise, wear proof and precise positioning.
Double screw maintains the accuracy of large format printers.
3, Double Rail guide
Employ Imported Linear guide,long life service,high stability, immensely decreases noise while
printer is printing, within 40dB while printing.
4, White ink, color ink and varnish print simultaneously
Simultaneous printing for higher productivity.
HARD, SOFT and NETURAL Ink optional,NEUTRAL LINK is compatible with HARD and FLEXIBLE materials
The ink is stable and can't block the print head
5, The printhead can support high-intensity work in 24-hour work everyday
Ricoh Original INDUSTRIAL printhead.